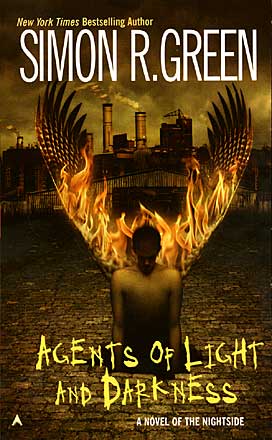 I'm John Taylor. I work in the Nightside—the gaudy, neon noir, secret heart of London, where it's always three in the morning, where gods and monsters make deals and seek pleasures they won't find anywhere else. I have a gift for finding things. And sometimes what I'm hired to locate can be very, very dangerous indeed. Right now, for example, I'm searching for The Unholy Grail, the cup that Judas drank from at the Last Supper. It corrupts all who touch it—but it also gives enormous power. So I'm not the only one hunting it. Angels, Devils, sinners and saints—they're all out there, tearing apart The Nightside, seeking the dark goblet. And it's only a matter of time until they realize that the famous John Taylor, the man with the gift for finding things, can lead them straight to it...
The Nightside seriesEdit
Main article: Nightside (book series)*
Something from the Nightside (New York, Ace 2003), ISBN 0-441-01065-2
Agents of Light and Darkness (New York, Ace 2003), ISBN 0-441-01113-6
Nightingale's Lament (New York Ace 2004), ISBN 0-441-01163-2
Hex and the City (New York Ace 2005), ISBN 0-441-01261-2
Paths not Taken (New York Ace September 2005), ISBN 0-441-01319-8
Sharper than a Serpent's Tooth (Ace February 28, 2006), ISBN 0-441-01387-2
A Walk on the Nightside (Ace September 5, 2006), ISBN 0-441-01448-8 (A collection of the first three Nightside novels.)
Hell to Pay (Ace December 27, 2006), ISBN 0-441-01460-7
The Unnatural Inquirer (Ace January 2, 2008), ISBN 0-441-01558-1
Just Another Judgement Day (Ace January 6, 2009), ISBN 0-441-01674-7
The Good, the Bad, and the Uncanny (Ace January 5, 2010) ISBN: 0-441-01816-5
A Hard Day's Knight (upcoming 2011)
The Bride Wore Black Leather
Ad blocker interference detected!
Wikia is a free-to-use site that makes money from advertising. We have a modified experience for viewers using ad blockers

Wikia is not accessible if you've made further modifications. Remove the custom ad blocker rule(s) and the page will load as expected.