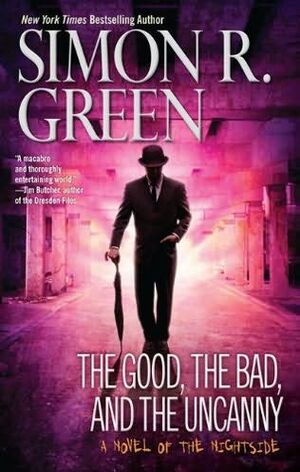 Things were going so well for P.I. John Taylor, that it was only a matter of time before everything hit the fan. Walker, the powerful, ever-present, neverto-be-trusted agent who runs the Nightside on behalf of The Authorities, is dying. And he wants John to be his successor-a job that comes with more baggage, and more enemies, than anyone can possibly imagine.
The Nightside seriesEdit
Main article: Nightside (book series)*
Something from the Nightside (New York, Ace 2003), ISBN 0-441-01065-2
Agents of Light and Darkness (New York, Ace 2003), ISBN 0-441-01113-6
Nightingale's Lament (New York Ace 2004), ISBN 0-441-01163-2
Hex and the City (New York Ace 2005), ISBN 0-441-01261-2
Paths not Taken (New York Ace September 2005), ISBN 0-441-01319-8
Sharper than a Serpent's Tooth (Ace February 28, 2006), ISBN 0-441-01387-2
A Walk on the Nightside (Ace September 5, 2006), ISBN 0-441-01448-8 (A collection of the first three Nightside novels.)
Hell to Pay (Ace December 27, 2006), ISBN 0-441-01460-7
The Unnatural Inquirer (Ace January 2, 2008), ISBN 0-441-01558-1
Just Another Judgement Day (Ace January 6, 2009), ISBN 0-441-01674-7
The Good, the Bad, and the Uncanny (Ace January 5, 2010) ISBN: 0-441-01816-5
A Hard Day's Knight (upcoming 2011)
Ad blocker interference detected!
Wikia is a free-to-use site that makes money from advertising. We have a modified experience for viewers using ad blockers

Wikia is not accessible if you've made further modifications. Remove the custom ad blocker rule(s) and the page will load as expected.